Ditch the Frying, Crispy Oven-Baked Chicken Leg Quarters - The Healthier Choice for this Classic Recipe
The inspiration for this recipe was the memory of Sunday Chicken Dinners I enjoyed growing up. Chicken dinners were typically fixed in two ways, either pan-fried or oven-baked. Both were delicious and super easy to make, but they were not all that healthy. So, as I often do, I set out to make a better classic chicken recipe.
Consequently, my results are this recipe, where I show you how I took the best of both versions to make healthier classic chicken minus the greasy, messy cleanup!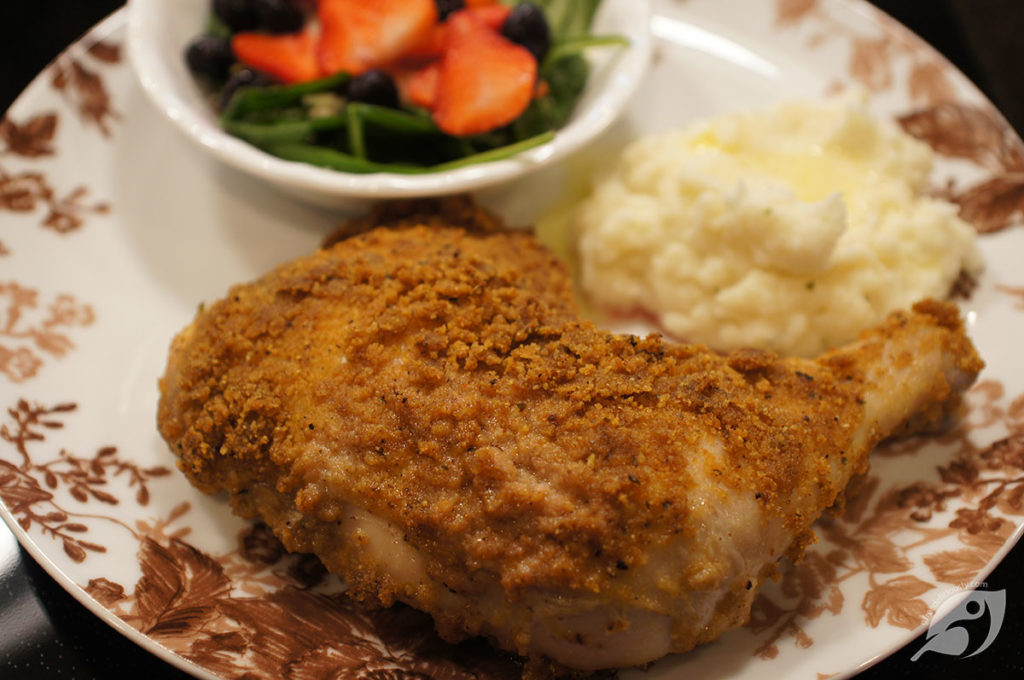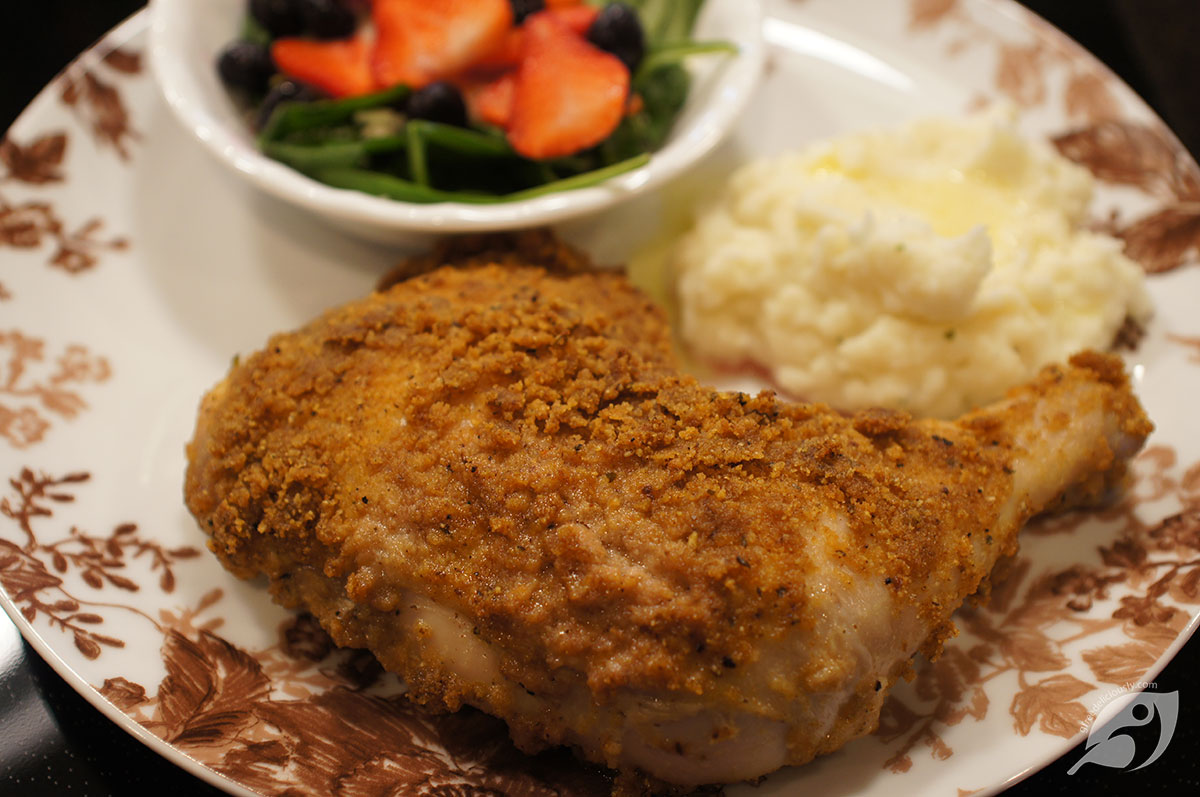 The chicken was always made one of two ways when I was growing up. It was fried perfectly in an electric frypan or baked in the oven.
To make it in the electric frypan, vegetable shortening was used for frying. The chicken pieces were first dipped in vinegar-soured milk or buttermilk. Then, it is dredged in flour and seasoned with salt and pepper before cooking in the melted shortening.
The other option was to prepare the chicken in the oven by shaking it in a flavored breadcrumb-style coating. Then, the coated meat was baked in the oven to mimic the fried texture created on the skin of the fried version. The seasonings used to cover it elevated the taste. And who could forget the brand? Made famous by enthusiastic children who, in the commercials, helped their grandmothers make dinner, its name and slogan exclaimed: "It's Shake-N-Bake. And I helped!"
To replicate the classic home-fixed versions of those Sunday chicken favorites, re-creating what I liked most about the texture, flavor, and taste to make a healthier new gluten-free version.
Since I'm always experimenting with healthier options, I decided to focus on creating my new recipe by oven-baking it, not frying, and, as a result, making it without all the grease and the messy cleanup!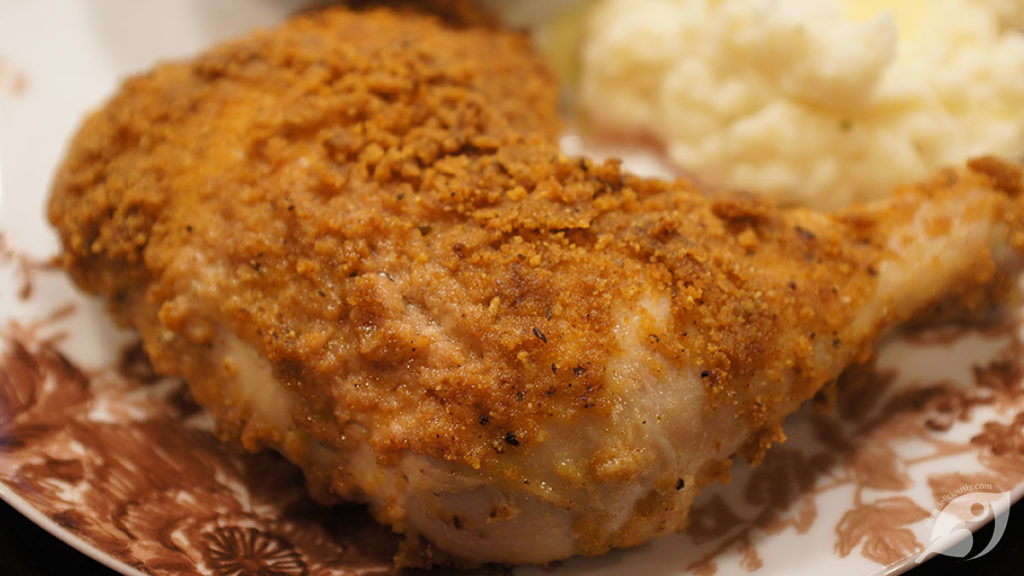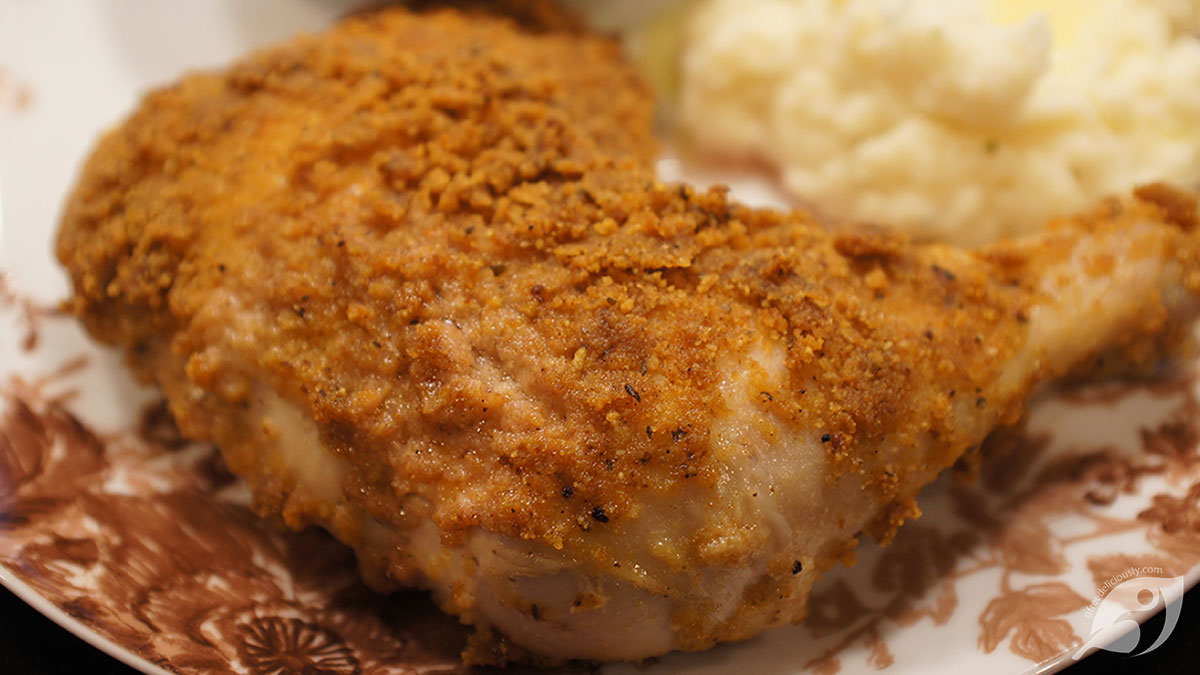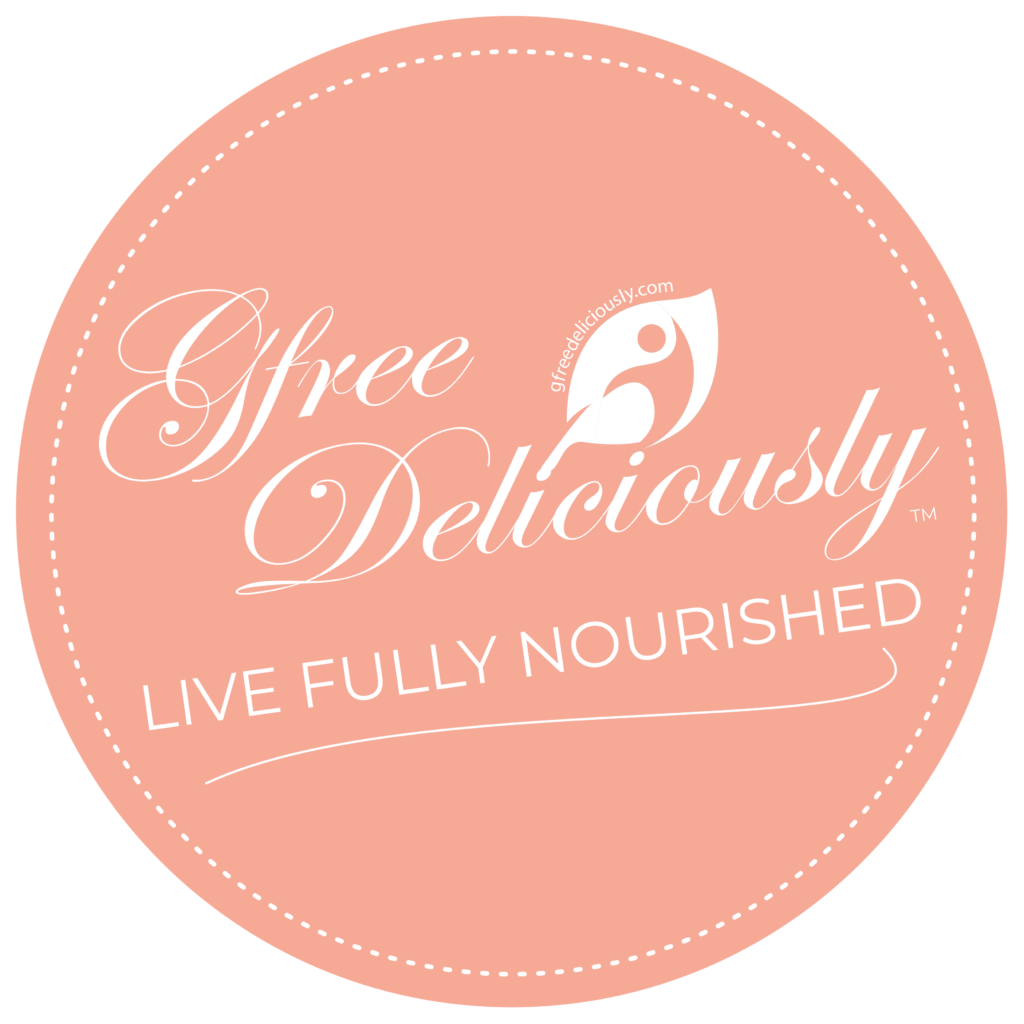 GET RECIPES • RESOURCES • +eNEWS UPDATES & MORE STRAIGHT TO YOUR INBOX !
Simple and delicious gluten-free recipes, family-friendly meal ideas, healthy cooking, encouragement, and easy-to-implement lifestyle strategies to live fully nourished… Only from GfreeDeliciously!
How to make Classic Chicken Minus the Greasy, Messy Cleanup!
When you bake chicken, it renders the fat in the skin, cooking the coating as it bakes, making the outside crispy. So to elevate the crispiness factor, I knew I had to implement a few secrets to ensure my success. Read on to find out what I did and a few unlikely ingredients I used to make it work out!
For the final version, both the wet and dry ingredients were updated. Therefore, I'm adding a little cayenne pepper, chili powder, dijon mustard, and hot sauce to make it zestier, which keeps my dear hubby happy (he loves spicy food).
The tricky part was tweaking the dry ingredient amounts to get the right coating consistency to stick to the chicken with still having it evenly covered.
Three Secrets for Making the Most Crispy, Tasty, Classic Oven Baked Chicken...
My 1st Secret - Start by soaking the chicken to marinate it.
After reading nearly every recipe in my cookbook collection and online, I began experimenting with various techniques, even skipping a soak. I tried many methods, including the widespread practice of double-dredging before traditional frying.
FYI: When you double-dredge, you shake the marinated chicken in seasoned flour, then dip it in egg before finally dredging it in a crumb or batter mixture. I found that double-dredging made the breading way too thick for oven baking. The coating turned crunchy outside but quickly fell off the chicken in serving and eating. Then, I tried the same method with deep-frying. When I did that, it worked fine, and the taste was incredible, but deep-frying did not provide the healthier version I sought.
Grandma knew what she was doing when she soaked the chicken. So ultimately, the vinegar-soured milk and buttermilk were ditched for a healthier marinade to gain the benefits from a soak that still tenderizes the meat.
The meat was juicy and tender by marinating the mixture in the refrigerator for as little as 30 minutes up to several hours. It also allows the spices and crumb-coating mixture to stick better to the chicken pieces.
Secret #2 - Include baking powder.
Baking powder is a leavening agent that increases the crunch factor by causing the wet and dry ingredients of the marinade and the crumb-coating to work together and rise in tiny bubbles as it bakes.
Finally, Secret #3 - Add a super crunch to the coating with Corn Chex and toasted and seasoned breadcrumbs.
Adding 1/4 cup of gluten-free Corn Chex cereal (finely crushed) and toasted, seasoned gluten-free bread crumbs (I make my toasted breadcrumbs) to add the desired texture to the coating raises the taste and texture of the final result.
The final version, it turns out, is the best way imaginable. The spice-flavored crumb-style coating is not too heavy. Light and crunchy to the bite, it bakes flavorfully with that classically fried chicken crunch, texture, and taste. 
The quantity that follows in the recipe makes four chicken leg quarters.
Cooked Chicken Temperature
If unsure when your chicken is cooked, use an instant-read thermometer or oven probe to monitor the temperature. It should read 165º F (75º C) when inserted in the thickest part of the meat.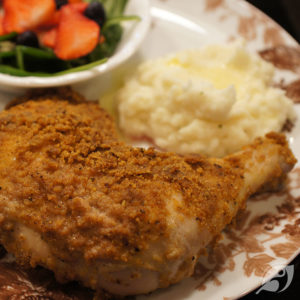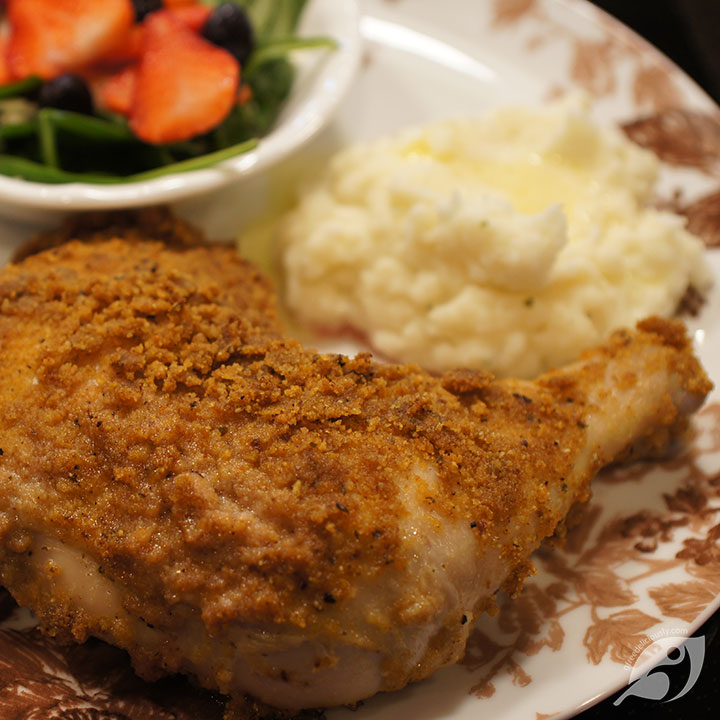 Crispy Oven-Baked Chicken Leg Quarters
The American Classic Sunday Recipe for Crispy Oven-Baked Chicken is re-invented in a gluten-free version for enjoying any day of the week!
EQUIPMENT
9 x 11 Baking Pan

Wire Baking Rack

Zipper Bag

baloon whisk

tongs
INGREDIENTS
2

Tablespoons

Butter

melted
Add ingredients to your Private Shopping List before ordering online.
Quick Add Ingredients to Shopping List
INSTRUCTIONS
To Marinade
Combine the marinade ingredients and whisk together until smooth.

1 Tablespoon Apple Cider Vinegar,

1/2 cup Half and Half,

1 tablespoon Canola Oil,

1-1/2 teaspoons Dijon Mustard,

2 teaspoons Hot Sauce,

1/2 teaspoon Garlic & Herb Blend,

1 teaspoon Black Pepper,

1/4 teaspoon Kosher Salt

Place the chicken parts in a plastic zipper bag. Pour in the combined marinade mixture. Squeeze the air out of the bag and seal. Then work the chicken and marinade mixture with your hands to evenly coat the chicken before placing it in the refrigerator to marinate for 30-minutes, a minimum of up to several hours.
For the Coating
Meanwhile, in a medium-size bowl, use a whisk to combine the crumb-coating ingredients. Mix the flour, cereal, toasted breadcrumbs (finely crushed), baking powder, seasoning, and spices until incorporated. Set aside.

1/4 cup Gluten-free All-Purpose Flour,

1/4 cup Corn Chex cereal,

1/4 cup Toasted Breadcrumbs,

1/2 teaspoon Baking Powder,

1/4 teaspoon Poultry Seasoning,

1/4 teaspoon Paprika,

1/4 teaspoon Cayenne Pepper,

1/8 teaspoon Chili Powder
To Bake
Preheat the oven to 375°F (191°C), and set the rack in the middle position.

Prepare a baking dish by melting butter and pouring it into the bottom of the baking dish (a 9 x 11" baking dish works well for four leg quarters).

Remove the chicken from the marinade, shake off the excess liquid, and dredge* in the crumb-coating mixture, which is sure to coat all sides.

Arrange the crumb-coated chicken in the dish, leaving plenty of room around each piece, not touching, so each piece bakes and do not steam.

Finally, place in the oven to bake uncovered for 30 minutes, turn the chicken pieces over, and then bake another 30 minutes. To finish, increase the oven temperature to 400°F (204°C), baking for an additional 10-15 minutes or until the internal temperature reads 165°F (74°C). [1]
KITCHEN NOTES
Footnote(s):
[1] Check by inserting an instant-read thermometer at the thickest part of the thigh, taking care not to touch the bone.
*When dredging the chicken, I use tongs to assist in holding onto the moist leg quarters. Using tongs avoids getting clumpy fingers and uneven coating.
Nutrition
Calories:
277
kcal
Carbohydrates:
13.4
g
Protein:
11.8
g
Fat:
19.7
g
Saturated Fat:
6.8
g
Polyunsaturated Fat:
3.5
g
Monounsaturated Fat:
8.1
g
Trans Fat:
0.1
g
Cholesterol:
71
mg
Sodium:
405.5
mg
Potassium:
372.3
mg
Fiber:
1.1
g
Sugar:
2.5
g
Vitamin A:
97.1
IU
Vitamin C:
2.8
mg
Calcium:
116.9
mg
Iron:
1.8
mg
(Nutritional values are an approximation. Actual nutritional values may vary due to preparation techniques, variations related to suppliers, regional and seasonal differences, or rounding.)
Copyright © 2017-2023 Kymberley Pekrul | GfreeDeliciously | gfreedeliciously.com | All content and photographs are copyright protected. The sharing of this recipe is both encouraged and appreciated. However, copying and/or pasting full recipes to any social media is strictly prohibited. Please read my Photo Use Policy for detailed guidelines and further clarification.