GfreeDeliciously BLOG
(a.k.a. "REVELATIONS")
Here's where you can find all the latest and greatest from the GfreeDeliciously blog—recipes, tips and tricks, personal updates, and more. Be sure to sign up for email updates to receive all our new posts right in your inbox.
Running on Faith, Prayers, and Determination
At GfreeDeliciously, it truly is my greatest heart's desire to help others find encouragement and fulfillment, learn, grow, and embrace their unique self through a balance of healthy lifestyle concepts and faith-based living. I will teach you how to make easy, healthy meals and provide practical encouragement to nourish your body and soul.
As I'm writing this, it occurred to me that some of you might be wondering, 'What's up with calling the blog "Revelations" anyway? It's sort of a funny name.'
I'd have to agree; it is kind of strange. But in many more ways, the name 'Revelations' seems very fitting for this blog, too, first because this is the place on the website where everything in my vision coincides. And then because I live and work in an area of Central Wisconsin known as the Holylands. So I guess it makes perfect sense to me.
Anyway, here is where all the blog parts come together. In these posts, I hope to inspire, encourage, and challenge folks to eat healthy while sharing what God has taught me, both spiritually and physically over the years, to reach a healthy balance of being gluten-free.
This is the historical timeline to my recipes and all the BIG 'Aha Moments' where I share my bright ideas and hope to share useful advice. It's also where I'll pass along some nifty tips and techniques from my personal experience of getting healthier, working on getting and staying in shape, and doing it in a faith-based way. Honestly, I can tell you that it's always been about running on faith, prayers, and determination to guide me every day.
All in all, GfreeDeliciously is created to inspire your 'GfreeWellness' to get you feeling fit and healthy for life, all while enjoying the journey!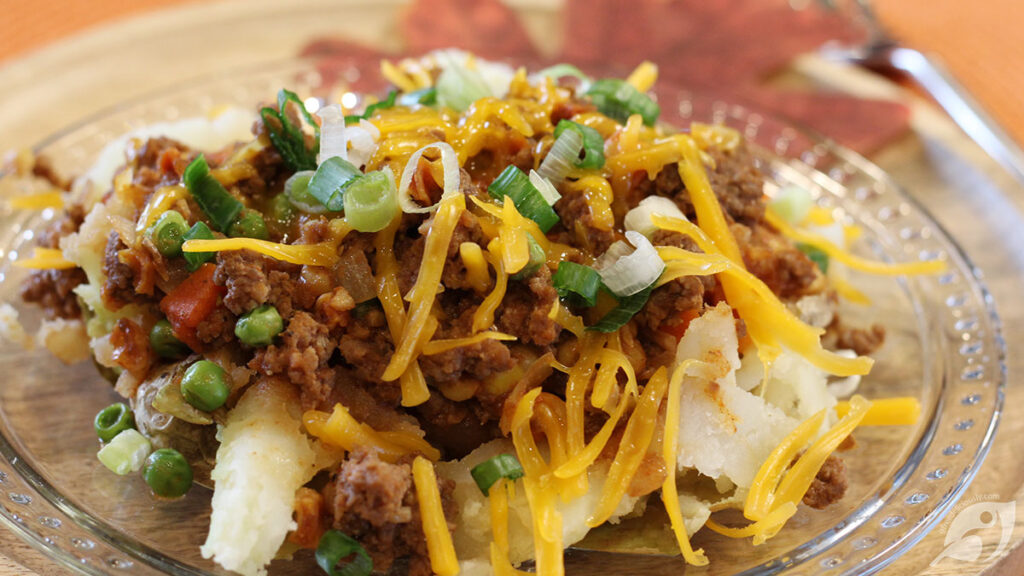 What could be better than a classic comfort food dish ready in just 20-Minutes? Try this Wildtree recipe remake for Shepherd's Pie (a.k.a. Cottage Pie) Stuffed Potatoes with rich ground beef, gravy, and hearty vegetables stuffed in baked potatoes and topped with bright, creamy Wisconsin Cheddar Cheese!
Continue Reading »