How to Make Gluten-Free Breadcrumbs Croutons, and Bread Cubes
It's easy to make gluten-free bread cubes for stuffing, croutons for a garnish, or making breadcrumbs for use in recipes. The entire process of making them takes very little time, and they are a much better option to add flavor and texture than the store-bought variety.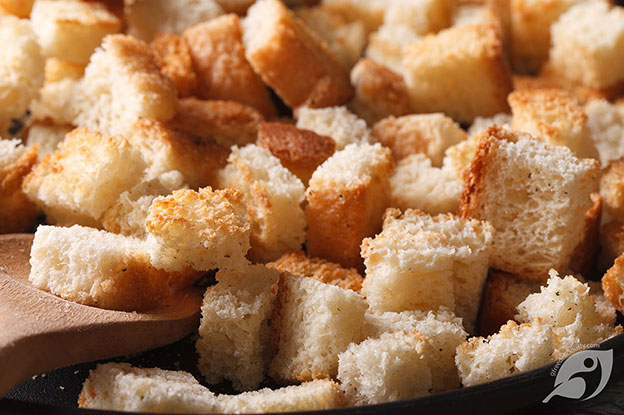 To begin the process, you will be drying gluten-free bread.
If you're like me and don't particularly care for eating bread crusts or whenever you have a few extra slices of GF bread sitting around, and you know that you won't eat it before it gets stale – cube them and bake them up for use later!
Are you pressed for time?
I've found that keeping a large zipper bag for collecting bread crusts and slices in my freezer is the perfect solution. Don't be afraid to add different types of GF bread to your bag (white, dark, French, mock rye, baguettes, etc.); combining varying bread types adds flavor and texture to the cubes or crumbs you'll be making.
When the bag is full, defrost the bread, and you're ready to make cubes for stuffing, croutons, or crumbs for whatever you need.
Always have just what you need.
Do you need a few croutons for a salad or slices for making breadcrumbs for a recipe? Pull out the perfect amount from your freezer, defrost, cube them, season them, and you're ready to go.
Never have any leftover bread?
You can always buy a loaf or two the next time you're at the grocery store to use for this recipe.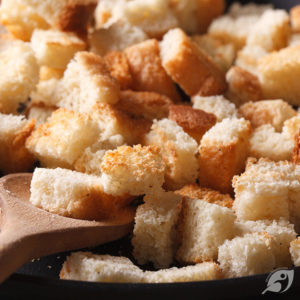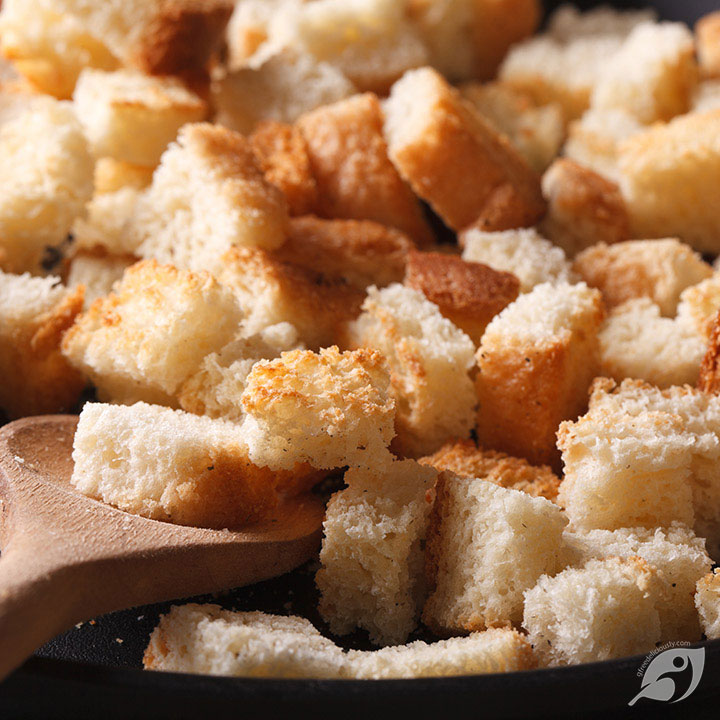 How to Make Gluten-Free Breadcrumbs, Bread Cubes, and Croutons
Quick and easy steps for making gluten-free bread cubes for stuffing, croutons for garnishing, and breadcrumbs for use in recipes.
EQUIPMENT
Cookie or baking sheet

Sharpe knife

oven

Food processor or rolling pin
Add ingredients to your Private Shopping List before ordering online.
Quick Add Ingredients to Shopping List
INSTRUCTIONS
Preheat your oven to 225-degrees

Cube the bread, spread it out onto a large cookie or baking sheet.

Drizzle with olive oil (a couple of turns around the sheet should do it).

Season with salt and pepper and toss lightly.

Add additional seasonings to taste if desired (onion powder, garlic powder, parsley, sage, etc.).

Bake until the bread is lightly toasted and completely dried out. Stir occasionally to toast the cubes evenly.

Cool thoroughly and save in heavy zipper bags or a tight-sealing container.

Store cubes in the refrigerator for up to one month, or in the freezer for up to three months.
KITCHEN NOTES
To Make Cubes for Stuffing - Add powdered sage, onion powder, and parsley to taste in step number four, and toss lightly before baking. Please note that sage is a strong spice. Add it sparingly, smelling and even tasting a few cubes as you go to make sure you are flavoring cubes that you'll want to use and that won't be over-seasoned. To Make Croutons - Add powdered garlic, onion powder, and parsley to taste in step number four, and toss lightly before baking. To Make Breadcrumbs - Use toasted cubes plain, or season with additional dried herbs and spices to your liking.
Place the cubes of bread into the food processor or blender jar—pulse to your desired crumb size, approximately the size of rice grains. For the best results, add the cubes in small batches. Optional method - If you prefer to make breadcrumbs manually, place the dry cubes in a zipper bag, press to get the air out, and seal; then smash and roll the contents with a rolling pin to break the cubes into crumbs.
Nutrition
Calories:
570
kcal
Carbohydrates:
60
g
Protein:
12
g
Fat:
33
g
Saturated Fat:
5
g
Sodium:
2910
mg
Potassium:
244
mg
Fiber:
6
g
Sugar:
7
g
Vitamin C:
1
mg
Calcium:
195
mg
Iron:
5
mg
(Nutritional values are an approximation. Actual nutritional values may vary due to preparation techniques, variations related to suppliers, regional and seasonal differences, or rounding.)
Copyright © 2017-2023 Kymberley Pekrul | GfreeDeliciously | gfreedeliciously.com | All content and photographs are copyright protected. The sharing of this recipe is both encouraged and appreciated. However, copying and/or pasting full recipes to any social media is strictly prohibited. Please read my Photo Use Policy for detailed guidelines and further clarification.