Chocolate & Coffee Rubbed New York Strip Steak with Bourbon Parmesan Cream Sauce
There's something about making a "steak dinner" that signifies equal part importance, extravagance, and pure pleasure. No messing around; if you're looking to impress, choose steak as the centerpiece of your meal.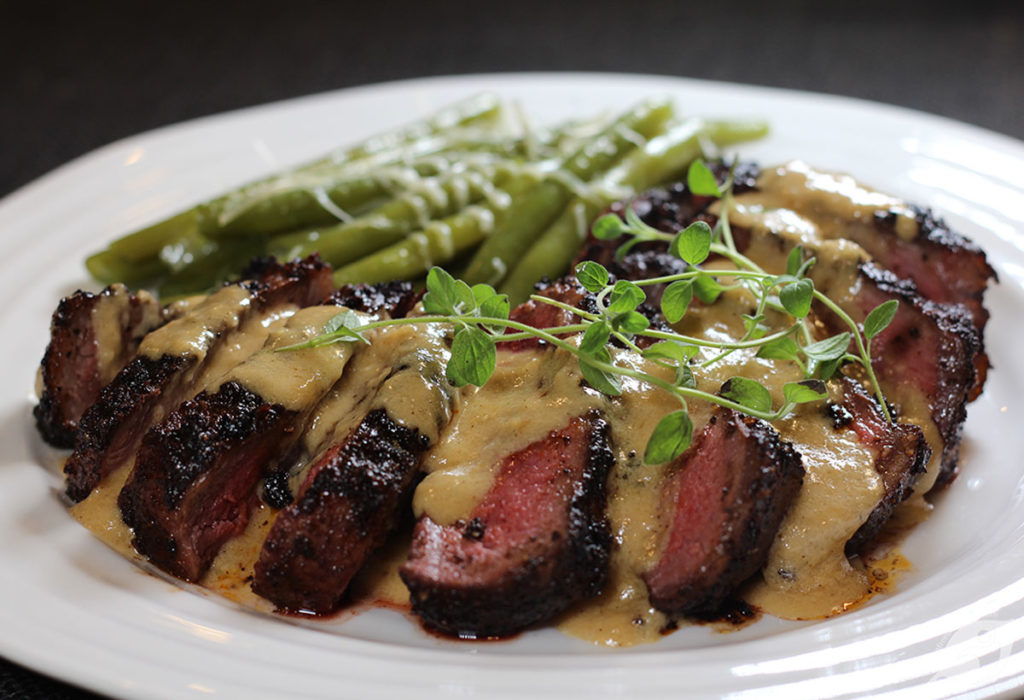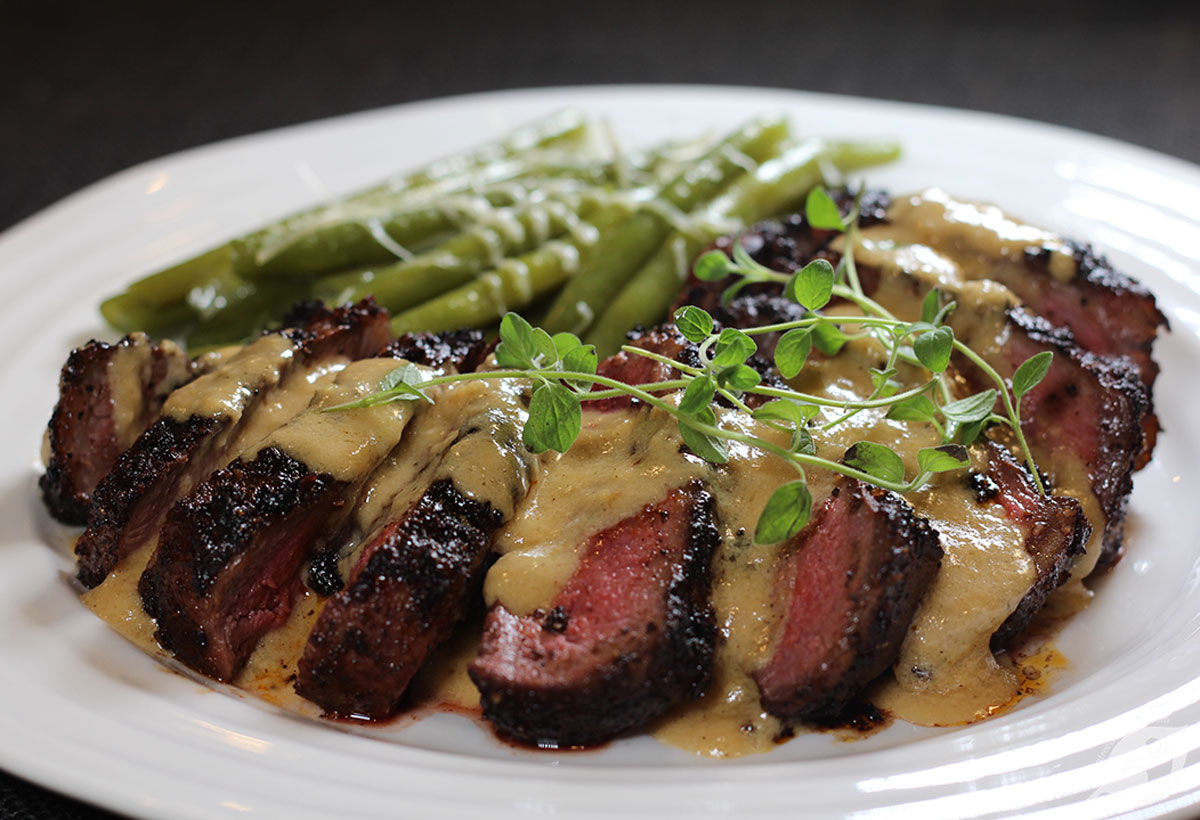 It seems more than a little odd to me that I would begin telling you about how to make a special dinner like Chocolate & Coffee Rubbed New York Strip Steak with Bourbon Parmesan Cream Sauce for someone you love by talking about something that for years had bugged me about my dear sweet hubby.
Stick with me; this is not a post to throw the love of my life under the bus. Rather, it's an example of how one person's unique food habit can inspire the culinary aptitude of a cook (me) and meet the challenge of making the perfect meal for my Valentine.
If you've been reading my posts for a while, you probably recall that I've mentioned before that my husband is a "Saucy Guy." He loves sauces on absolutely everything.
Without going into all the details of how enraged his love of sauces has annoyed me, I will tell you that this saucy-ness of his has been more than just a little frustration point at mealtimes. And, this repeatedly has happened for years.
Then, one day not so long ago, I remembered an old saying that goes, "If you can't beat 'em, join 'em."
So, I set out to learn how to create foods with complementary sauces that this man of mine couldn't resist (or at least foods that he wouldn't feel were necessary to sauce himself).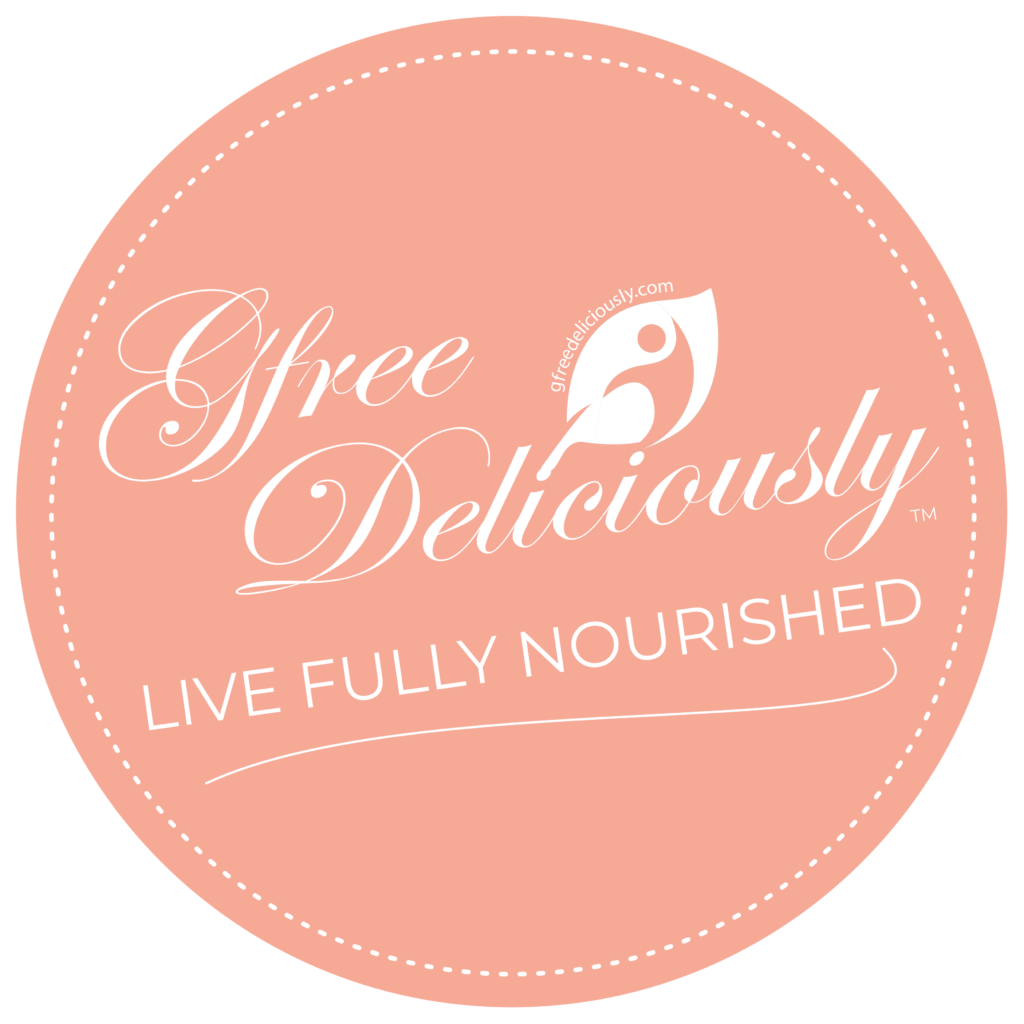 GET RECIPES • RESOURCES • +eNEWS UPDATES & MORE STRAIGHT TO YOUR INBOX !
Simple and delicious gluten-free recipes, family-friendly meal ideas, healthy cooking, encouragement, and easy-to-implement lifestyle strategies to live fully nourished… Only from GfreeDeliciously!
Guess what? I Surprised Myself!
Not only did the sauces take many of our favorite meals up another notch, but I also taught myself to use sauces in a variety of ways I had never thought possible. I discovered that sauces could be one of the biggest players in maximizing flavor in food. They are also the perfect way to finish a dish or entrée.
In this recipe for New York Strip Steak, I've created a sauce that enhances the flavor and balances the seasonings and spices from all the components used in the rub while finishing off the steak for visual appeal.
It's well-known that we all "eat with our eyes first,"
And it's true.
Coming off the grill this steak looks like most any other New York Strip Steak but slice it up and add the Bourbon Parmesan Cream Sauce, and it becomes a steak that you can't wait to devour!
If maximizing the flavor of the steak is your goal...
Adding the Bourbon Parmesan Cream Sauce does that too. The profile flavors of vanilla, oak, and caramel from the bourbon blend perfectly with the nutty taste of the parmesan and the sweetness of the cream to make a thick, creamy sauce that compliments the beefy grilled flavor in the steak.
I know that this recipe might sound a little bit different, but I encourage you to try it out, and when you do it, remember that everyone's taste preferences are unique. So, when making the steak rub if the Chipotle Chili Powder or the Spanish Hot Paprika sound like they'll be a little too spicy for you, it doesn't mean that it's the only chili powder or paprika you can use. Adjust accordingly. You can always switch out hotter spices for others, add a little less, or a little more. Season little by little, smell, and taste as you go.
The bottom line is having fun.
The rub seasonings and spices kick up the flavor of the New York Strip Steak for a recipe that's super quick and easy to make — combining a few standard pantry spices, cocoa powder and a tiny bit of ground coffee to rub on the steak before grilling elevates the flavor of the beef. Once grilled, slice it thin, then serve with this five-minute Bourbon Parmesan Cream Sauce to fancy it all up. Yeah, delicious. Plus, it's gluten-free!
Make this recipe to wow your special someone, then let me know your comments and rate it below.
XXO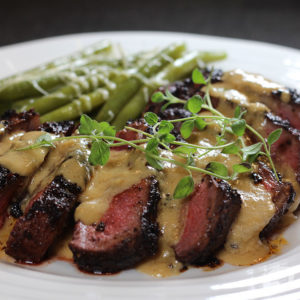 Chocolate & Coffee Rubbed New York Strip Steak with Bourbon Parmesan Cream Sauce
Here's a fancy dinner that you'll have on a plate in 15-20 minutes. Quick and easy, this elegant tasting Chocolate & Coffee Rubbed Steak with Bourbon Parmesan Cream Sauce is the perfect entrée meant to impress the next time you're looking to make dinner special.
EQUIPMENT
Grill or grill pan

Small Bowl, Whisk, Measuring Spoons, Grill Tongs

Small saucepan
INGREDIENTS
For the Bourbon Parmesan Cream Sauce
2

tablespoons

Bourbon

3

tablespoons

heavy Cream

1

tablespoon

Butter

¼

cup

Beef Broth

¼

cup

Parmesan Cheese

grated
Add ingredients to your Private Shopping List before ordering online.
Quick Add Ingredients to Shopping List
INSTRUCTIONS
For the Steak
Combine the rub ingredients in a small bowl, whisk together, and set aside.

Remove any large chunks of fat off the steak, coat with the mixed rub on all sides. Place the meat on a plate, cover, and refrigerate for 30-minutes to one-hour to infuse the flavors into the steak.

Preheat the grill to 350º - 400ºF, Add cherry wood to the smoker box.

Spray grill grates with high-heat grilling spray, cook for 90-seconds per side, turning and flipping four times for a total of 6-minutes for Medium-rare (internal temperature 135ºF).

Transfer to a plate, cover with aluminum foil and rest for 5-7 minutes.
To make the Bourbon Parmesan Cream Sauce
While the steak is resting, combine the bourbon, cream, and butter in a small saucepan, simmer over medium-low heat for three to four minutes until the mixture becomes bubbly and thick. Add the broth, whisk in the parmesan cheese and cracked pepper while continuing to simmer until the cheese is melted and the mixture becomes thick.
To Serve
To serve, place the meat on a serving platter, slice crosswise, fanning out the steak, top with the Bourbon Parmesan Cream Sauce, and fresh herbs or micro-greens.

Devour!
KITCHEN NOTES
*Option: You can also use non-flavored ground coffee.
If you typically don't purchase flavored coffee and want to try it for this recipe, we used chocolate cherry, look for the small one-pot sampler coffee packs. These small (1.5 oz.) packs work great for when you're looking to try out a flavor!
Nutrition
Calories:
330
kcal
Carbohydrates:
6.6
g
Protein:
18.6
g
Fat:
18.5
g
Saturated Fat:
11.2
g
Polyunsaturated Fat:
0.8
g
Monounsaturated Fat:
5.2
g
Trans Fat:
0.3
g
Cholesterol:
79.1
mg
Sodium:
582.4
mg
Potassium:
337.1
mg
Fiber:
1.4
g
Sugar:
3
g
Vitamin A:
188.7
IU
Vitamin C:
0.2
mg
Calcium:
164.9
mg
Iron:
1.8
mg
(Nutritional values are an approximation. Actual nutritional values may vary due to preparation techniques, variations related to suppliers, regional and seasonal differences, or rounding.)
Copyright © 2017-2023 Kymberley Pekrul | GfreeDeliciously | gfreedeliciously.com | All content and photographs are copyright protected. The sharing of this recipe is both encouraged and appreciated. However, copying and/or pasting full recipes to any social media is strictly prohibited. Please read my Photo Use Policy for detailed guidelines and further clarification.