12 Hassle-Free Travel Tips for the Best Away-from-Home, Being Out-and-About, Gluten-Free Travel Adventures
Life is a journey that leads us to new and exciting adventures. As the old saying goes, every education has its tuition.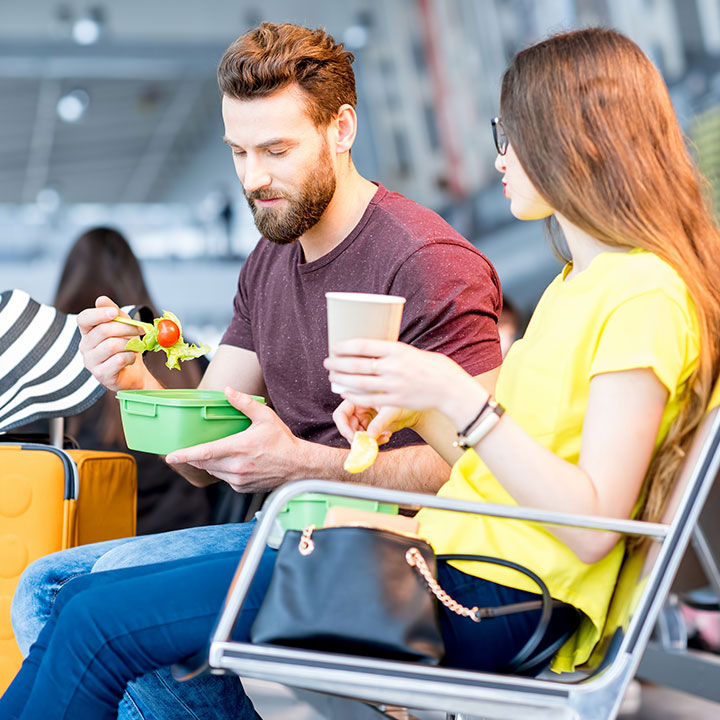 Traveling is no different, and even though you need to be gluten-free, traveling should not limit the adventures you're looking forward to completing from your bucket list.
Here are a few pointers for hassle-free, gluten-free travel that may shorten your learning curve and, hopefully, will save you some time and trouble along the way.
Plan ahead – Make lists and think about each part of your trip. Pre-research your destination, the waypoint stops, and the intersections you will make along your journey. Think about where you will eat and how you will eat along the way. Plan for airports, being on buses, planes, trains, cruise ships, and hotels. Also, plan for road trips and sightseeing once you arrive. Think about foods and snacks you might buy from convenience stores and grocery stores. Ask yourself what you need to do ahead of time to prepare for your special dietary needs. Plan for those hangry moments and what you might do if you get "gluten-ed" during your trip.
Plan transit food – Always pack a variety of snacks, and travel with non-perishable backup foods. Things that travel well might include fresh fruit like apples, bananas, grapes, oranges, dried fruits, trail mix, nuts, protein bars, energy bites, GF crackers, cheese, popcorn, or vegetables like carrots and celery.
Obtain a doctor's note to show TSA staff that allows you to carry "medical foods" through security at the airport. This will allow you to pack and take foods that usually would be confiscated. Most airlines have volume restrictions on these items so contact your airline of choice ahead of time to review what is allowed as medical foods. Foods such as peanut butter, hummus, yogurt, protein shakes, smoothies, soups, etc., can be allowed, which would normally be considered liquids. In my personal experience, I have taken a cooler with ham, cheeses, meat sticks, pasta, and salads without any problem.
Arrange for GF airline meals – Request a gluten-free meal when you book your flight. Flights abroad and longer domestic flights will serve in-flight meals. Most airlines have gluten-free options. Confirm on check-in that your request has been recorded and will be onboard for you. ***A note of caution, when you receive your in-flight meal, don't just dig in. You'll likely be hungry, but take the time to talk with the flight attendant, ask questions to make sure you're receiving the special meal you requested. Look over the meal you are given and check the tray's packaging to make sure that the foods you receive are gluten-free.
Check Customs restrictions – Many states and countries have border patrols and customs checks. Always check out what restrictions might be waiting at your destination. You don't want to end up with a hefty fine just because you packed an apple in your bag for a snack.
Call and check out accommodations – contact cruise lines, trains, and hotels ahead of time to make sure they can accommodate your needs. Cruise lines typically have a dietary department that handles allergies and meals; get in touch to arrange for and explain your dietary needs. Call your hotel to ask if a refrigerator and microwave are standard in every room. If not, request these items; they can make your trip a whole lot easier for eating gluten-free carry-out foods from restaurants and preparing meals for yourself from the grocery store.
Research and contact local celiac groups and bloggers at your destination – these people know the area where you're traveling. In addition, local sources are wonderful for helping to navigate gluten-free restaurants, grocery stores, and markets.
Download and Print Out Our Free GfreeDeliciously Safe Dining Cards –

Subscribe as a site member

to download our free safe dining cards to take along and use to start the conversation with waitstaff and restaurant staff about safely cooking gluten-free food and ingredients they must avoid in preparing gluten-free food. 
Gluten-Free Safe Dining Card
Start the conversation with waitstaff to dine out anywhere. Great for traveling!
The front of the card includes common ingredients to watch out for. The back of the card includes step-by-step instructions for gluten-free safe food prep.
Prefer to print your own? Subscribe to download these dining cards and even more of our Freebies! (Subscribe below.)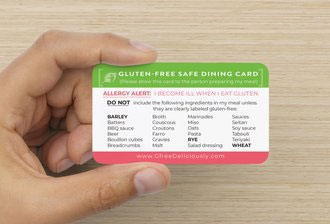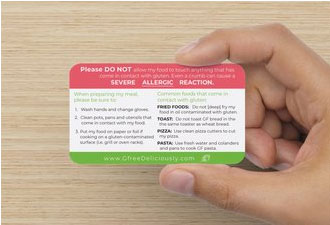 Order Professional Pre-Printed Cards
High-quality professionally printed safe dining cards. Rounded corner, 3.5 x 2″ standard-weight matte finish cards, printed front and back sides.
100 Cards  $33.00 (+ $7.00 Shipping)
Order GF dining translation cards – Language cards include translations of an explanation of specific food allergies into various languages. These cards can be helpful when discussing your gluten-free dietary needs with restaurant staff in foreign countries. GlutenFreePassport.com is a great resource for obtaining dining-out cards in all languages.
Take a foreign language course – Nothing will make you feel more like a local and more at ease than taking a foreign language course before your trip. Focus on phrases and speaking that are about food, allergies, celiac disease, and gluten sensitivity. Communication that you can use at restaurants.
Eat fresh local cuisine – and stick to naturally gluten-free foods. Many fresh cultural foods are also naturally gluten-free. Remember to ask questions, talk with the staff about the ingredients used, checking for gluten-containing ingredients. Share the dining translation cards mentioned above just in case the food is prepared with gluten.
Pack Herbal Teas and Drink Bottled Water – Herbal teas are a convenient way to flavor a bottle of water when you can't find or don't trust drinks available. Always choose bottled water over local water when traveling to assure you don't get sick. Even at restaurants, do not drink water from glasses or pitchers brought to the table. Also, be sure to check the tamper bands when purchasing bottled water in foreign countries. There are many stories about instances where local water has been filled into empty bottles that have been collected, then resold.
Prepare your Medications – Be sure to take enough prescriptions, over-the-counter vitamins, and supplements to last the duration of your trip, plus a few days. The last thing you will want to do is search for or translate with a reliable pharmacist to check ingredients or try to read the descriptions for hidden gluten on a medication label. You'll appreciate planning for a few extra days, especially if delays happen that might extend your trip.