My BIGGEST FEAR OF ALL FEARS HAPPENED, my site move ended up in disaster...
Initial Post -- July 24, 2019, 3:17 p.m. -
My BIGGEST FEAR OF ALL FEARS HAPPENED; my site move to a new host has ended up in disaster 🙁
August 1, 2019, 5:03 a.m. -
If you're new to my site, I hope you read this post first. If you've been here before, I'm sure you're questioning what has happened.
Yeah, I know that almost everything here looks wonky. Just look around, and you'll see what I mean. You'll find a whole bunch of <a title= "Gobbelty Goop" href=" https://idontknowwhatimdoing" target="_blank"></a> messy code, followed by another bunch of crazy code markup language that makes up the bones of a website kind of stuff.
I am assuming that I'm typical of anyone who has a website. I'm sure that at some point, you've thought, like I have, about how awful it would be if your site suddenly crashed or, worse yet, if it vanished altogether.
Luckily, my site hasn't crashed, and it hasn't vanished.
Now, here comes the "But"…
But, like a bad haircut that takes way too long to grow out, what happened during my migration to a new website platform and host is a SUPER scary thing for me.
After mourning what happened (and yes, I've cried a time or two), I've convinced myself to stay calm and look at what happened as a learning experience and an opportunity.
I've also accepted that there's a lot I've got to learn, and if other non-geek people can blog and create a website, so can I.
My goal is to fix it all in six months or less. To be caught up to where I remember my site "as it was" before 3:17 p.m. the afternoon of July 24, 2019.
In the weeks and months ahead, I invite you to check back here with this post to keep track of my progress, thoughts, and strength as I rebuild the past nearly three years of my work on my site, GfreeDeliciously.
Please excuse the design and crazy look of my site. I'm having extreme technical difficulties since migrating my site to its new host. Most links for my site are not working as they are supposed to. Please stay tuned to experience the beautiful version again once the site migration difficulties are corrected. My apologies for this less-than-quality experience. Kymberley 🙁
August 16, 2019, 1 p.m. -
Whew! What a week. Well, I've learned that only the bare-basic content of my site was migrated to this new host. It hit me very hard, spinning my mind into a range of emotions – mad to sad, ticked off, and like throwing in the towel. Now I'm past all that. I feel encouraged and blessed today because I can fix all this. It's going to take me a little while. It's a setback, for sure. Yet, after all, that's happened, I realize how much I've learned about blogging, business, site design, and so much more. If you're here, you're viewing the beginning of my new site, the homepage. Truthfully, I like what I've come up with better in this new design than the old one. I'm hoping that you will too. You'll notice that most links are still not working, but the design should be responsive on all your devices. Please stick with me and come back often to see my progress on the overall NEW site. I'm sending many blessings your way and my wishes for you to have a safe and happy weekend! Kymberley 🙂
I hope you're enjoying the redesign and rebuild. Slow but steady. Please stick with me here for some super beautiful things to come.
Still working, working, working…
Happy Fall!! Yep, I'm still here plugging along with the redesign and rebuild. Even though what you see on the front end of the site might seem like slow progress, there's been a lot happening on the back end to make your site experience the best it can be.
Daily struggles are the norm lately as I'm figuring out the ins and outs of keeping plugins to the minimum and having everything play well together in this sandbox that's my site. Thanks for checking back occasionally and for those who have reached out through email with encouragement. I feel very blessed to have you with me on this journey.
Thanks for your patience during my site rebuild. I aim to have everything back and working smoothly (all links and recipes included by Christmas). The site rebuild is coming along great. I'm still learning so much about Elementor, specifically theme templates and making all the pages display correctly on all responsive devices. My main site pages are primarily set up. The Community Forum is ready for visitor experiences, posts, and questions. 
When you're here, you can create a login and password to become a site member. One of the significant benefits of being a member of the site is that you can save recipes in your own recipe box, and soon, members will have access to exclusive content, including meal plans, helpful downloads, and more.
Sometimes, the blogging journey can feel like I'm strapped into a high-speed rollercoaster. And this week has been another trying ride.
Just when I thought everything was steadily climbing upwards, I gasped, catching my breath as frustration set in for another dip in my progress.
I'm quick to raise my hand in admitting that my biggest problem is that I'm a perfectionist. I work diligently to ensure all my T's are crossed and I's dotted. The same can be said for how I want this site to perform or display responsively across all devices.
This week, I ran into a snag after what I thought was a plugin update that broke the ability to view design changes in the tablet's responsive mode. I Googled, did it over, re-tweaked, and even growled at my screen to fix it, to no avail. The Elementor responsive tablet mode was not working.
If I had a bazillion dollars, I'd have thrown money at it, but unfortunately, I'm not a billionaire, and sadly, I'm a long way off from even being close to a millionaire. With tunes of the Barenaked Ladies' song If I Had $1,000,000 repeatedly playing in a loop through my head. I tackled the tedious task of switching on and off my site plugins to hopefully find the issue. It wasn't a plugin.
But I learned that when you're building your site in the theme builder and through the elements, it pays to take the time as you're designing your theme or page to ensure that everything is responsive as you go. Doing this will save you a lot of headaches in the future – especially if you've copied the element to use in many areas of your site.
I discovered that the problem for most of my tablet mode issues was little tweaks to structure and layout settings in the content sections. If I had slowed down to check the responsive mode on tablet and mobile when designing these sections, it probably wouldn't have taken me days to correct the issues.
Self-coaching reminds me to take "Baby steps, Thumbelina." I am taking my advice for enjoying this ride and the 'Amazing, Glorious Journey.'
So, if you come across something still a little wonky here, rest assured I'll get to it soon. Thanks for your patience, XXO ♥!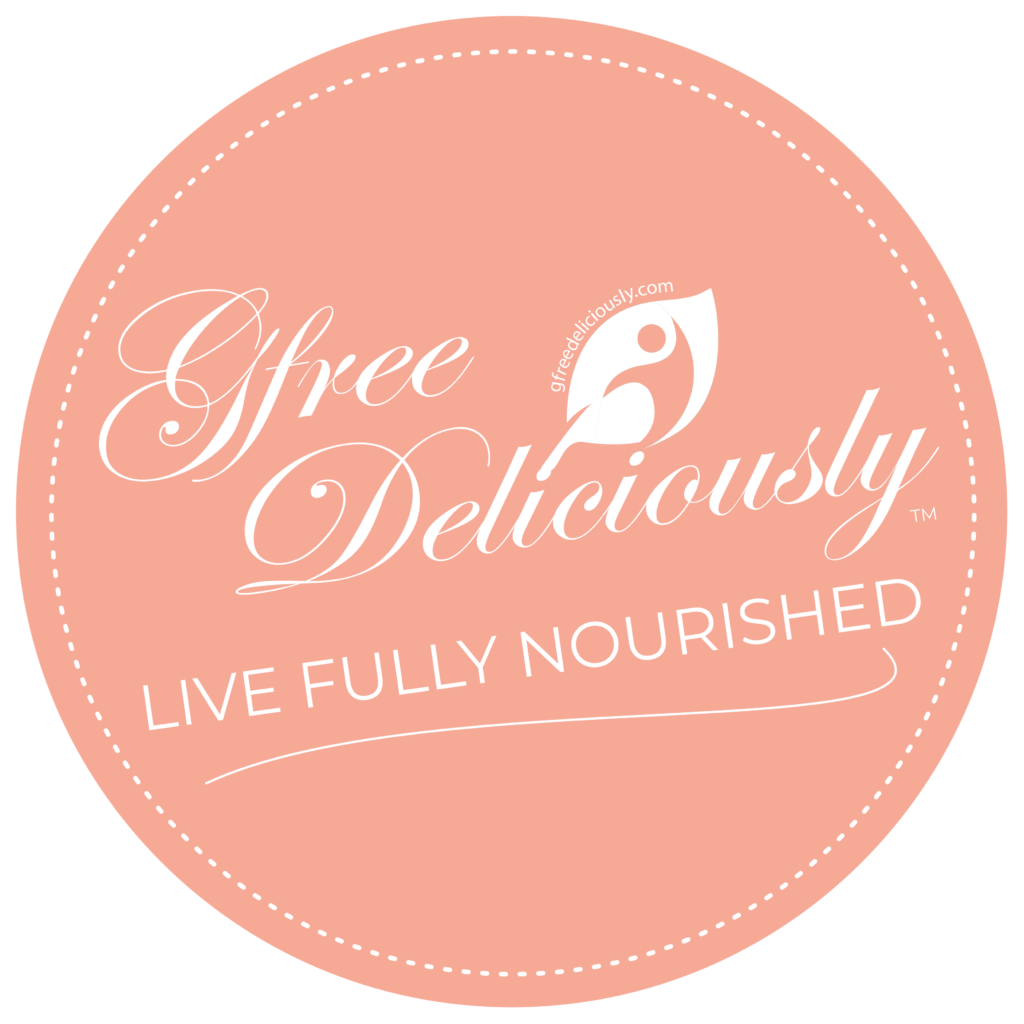 GET RECIPES • RESOURCES • +eNEWS UPDATES & MORE STRAIGHT TO YOUR INBOX !
Simple and delicious gluten-free recipes, family-friendly meal ideas, healthy cooking, encouragement, and easy-to-implement lifestyle strategies to live fully nourished… Only from GfreeDeliciously!
Today, I'm a bit bummed. I'm torn. On the one hand, I want to keep at my site rework; on the other, I want to get to the Christmas decorating, baking, and other preparations to celebrate the birth of Jesus that I'm yearning to get to.
I had hoped to beat my goal of having the site rebuilt in six months. I wanted to give myself the Christmas present of having it caught up to when everything went haywire on July 24, 2019, by December 24, 2019.
Next Saturday, the 21st, we will celebrate Christmas with our kids and grandkids. Looking forward, I'm excited because everyone is coming home. It's a time to catch up on their lives and all that's been happening, share some of our favorite foods, and watch the grandkids open presents.
Most years, everyone brings their favorite snack foods and a casserole or dish to share. It's a grazing day with no actual sit-down planned meal.
And, like most years, this year again, I'm compelled to cook, bake, and prepare all sorts of foods that make our holiday special.
In a mental tug of war, I find myself obsessing – should I, shouldn't I? Should I step back and take the time to prepare for the coming holiday? Shouldn't I stay true to my goals?
Clarity is a simple gift to receive in my writing today. 
My blogging career was started so that I would have the flexibility to work around my priorities.
For more than 30 years, I wanted to be in charge of my schedule but had to put in my time working when I truly wanted to do other things.
So today, through the New Year, I'm taking some time off. It is time to reflect on the meaning of Christmas and Jesus' birth. It is a time to prepare my heart for remembering His birth and the true meaning of Christmas. Time to prepare and enjoy time spent with and for my family. And the time to strengthen my body and soul for the New Year and all it holds in store.
I'll be back in 2020! XXO ♥! Merry Christmas and Happy New Year! 
Taking a short break over the holidays was just what the doctor ordered!
The last day I wrote to you was the first day I had taken off since my site disaster happened. I desperately needed the space and time to nourish my spirit, find joy in daily life, and feed my body and mind.
Today in this New Year, Lord, I thank you for sending your Son, Jesus, to be born so that he could die for my sins. I thank you for allowing me to have a relationship with my Creator.
Dear Father, I'm so glad I can call on You anytime, with any trouble. 
When I began my break in December, I felt like life was a fifty-pound backpack. It was heavy, with worries wearing me down and making me exhausted. Even small decisions tended to grow in my mind, making them seem more consequential and essential than they were.
My holiday break gave me a chance to look away from the troubles of my blog – to Rejoice in what the Lord has done! Instead of lending every thought to the problems at hand, I praise God for the ways He has provided in the past, and He no doubt will give again in the future.
The break these past few weeks has provided the space I needed to count my blessings and feel the weight lifting off my shoulders. It's allowed me to appreciate my freedom to enjoy life—the freedom to enjoy my home and the comfort that it brings. Enjoy my family and the things I have. It's allowed me to fully feel the joy of seeing the sunrise, the crispness of a snowy morning, and all the beautiful things to enjoy as I write you this update and message!
Sometimes life feels complicated, yes. But it should never be allowed to rob us of the joy the Lord provides.
Philippians 4:4 (NIV) – Rejoice in the Lord always. I will say it again: Rejoice!
I pray, Christ, my Lord, give me the strength to follow the path You have designed for me. I ask that you guide me and change me from the inside out. Today is the first day of the New Year. A new year in my blogging life! In Jesus' name, amen.
Philippians 4:13 (NIV) – I can do all this through Him who gives me strength.
Today is my Daughter Heather's birthday. So, today has always been a day of celebration for me. But this year, today is an extra special day for celebration.
Today, just one week short of my six-month goal to be caught up to where I remember my site as before that fateful afternoon on July 24, 2019, my site is back!
I still have a little more to do. There are more tweaks to categories, tags, and SEO, but all recipes, posts, and pages are back. 
GfreeDeliciously subscribers can look for the weekly GfreeDeliciously emails to resume in February, where we'll begin by loving ourselves silly with chocolate!
Get set for a bevy of delicious new recipes and a few surprises as I return to cooking and creating an extraordinary gluten-free lifestyle where everything clicks!
Almost a year later, I admittedly was not happy with my hosting migration experience to a big-name hosting platform. It seems that it wasn't all that was promised.
Today, I decided to try this again.
Fingers crossed that migrating to the new host I've chosen will work out.
I'll keep you posted.
-kp
May 14, 2020 - I'm Doin' My Happy Dance...
Well, I Did IT Again…
Only this time, my site move went perfectly!!
WOW! WOW! WOW!
I couldn't be happier with my migration experience. I couldn't be more pleased with my site speed, the level of service that I've received through support, and, generally, the communication level throughout my entire migration. Yea!
Today, I'm giving BIG Shout-Out to my new host, BigScoots, and their staff for making my site move and hosting migration experience easy as pie! Thank you, thank you, and many thanks for all you do!