How to Create a Meal Plan

2. When you choose "My Weekly Meal Plan,"  you will see sample recipes for breakfast, lunch, dinner, and a snack or dessert choice in the "Sunday" Column on the left (see above). You can view the recipes, change the servings, or remove the recipe item shown by clicking on the three-dot menu next to the recipe (see below).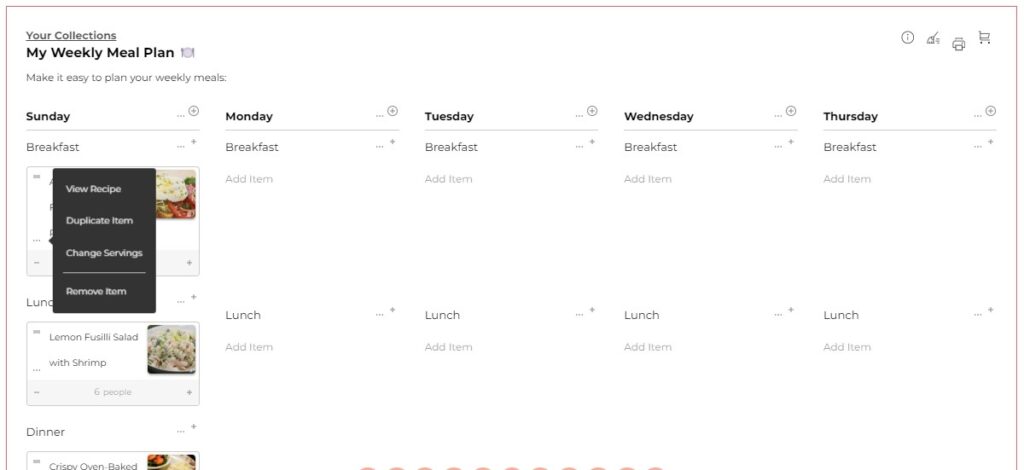 3. To add more recipes under each day, the default setting allows you to add new items from your saved recipes by selecting "Add from Collection" (i.e., > My First Recipe Collection) using the drop-down menus.
You can also search the recipes on the website, search for specific ingredients you have on hand used in our recipes, add a custom recipe (of your own), or add a note. 
Once you find a recipe you want from the collection, click the plus sign to add it to your plan.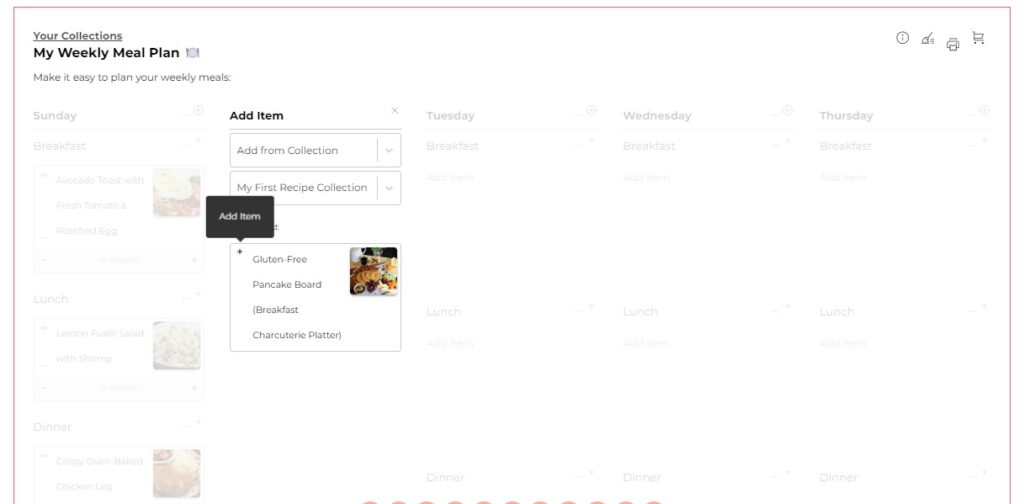 Notes can come in handy; for instance, maybe you swapped out or added something to the recipe, or if you have a food allergy and want to remember what you used instead of the ingredient listed.
You can also color-code your saved recipes using notes (i.e., "Red" for allergens, "Blue" for cooking notes, "Green" for the family loved this recipe! "Yellow" for Mom and Dad thought it was great, kids not so much).
When done adding or editing a note, click the "X" in the upper right corner to return to the meal plan.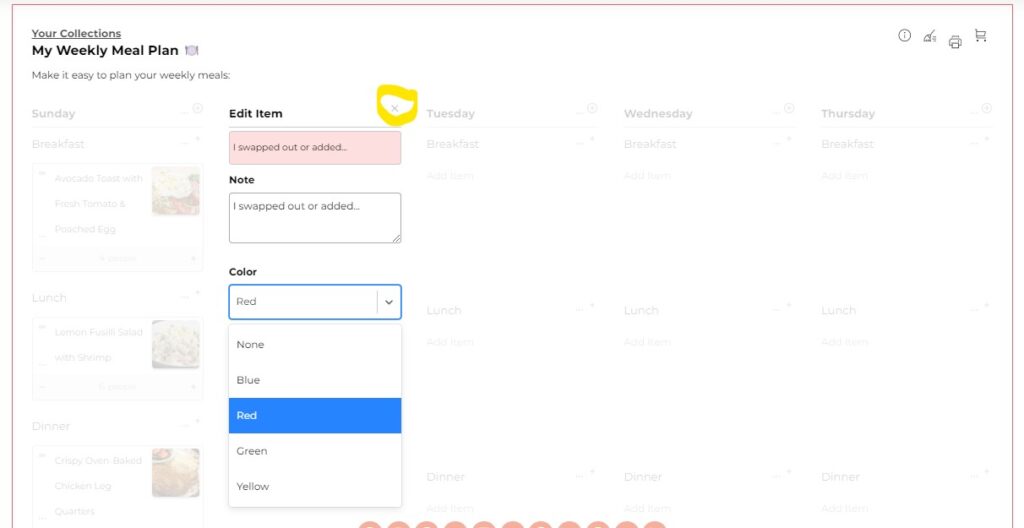 How to Re-Arrange and Move the Recipes
As you build out your plan, you can easily rearrange your recipes with drag-and-drop by clicking and holding the two bars to the left of the recipe. Drag the recipe to the day and mealtime where you want it.

How to Change the Name of Your Meal Plan
1. To change the name of a meal plan template, click on "Your Collections" (upper left).

2. Then click on the three-dot menu on the right side of the meal plan template that you created. Choose "Change Name" from the menu that appears.

3. Your cursor should be at the end of the current name. Click and drag to the left to highlight. Then, type your new meal plan name. You could use a specific date, as in the example below, something simpler like Week 1, 2, 3, 4, or something entirely different that makes sense to you…

Thanks for becoming a GfreeDeliciously Pass member!
If you have any questions, feel free to contact me at [email protected].