Corona Stress Management Guide
24 Ways to Reduce Stress in the midst of COVID-19 !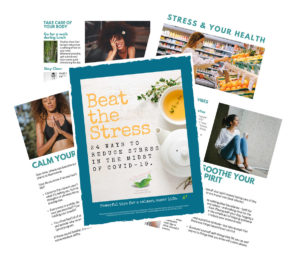 Powerful tips for a calmer, saner life
Stress is sneaky. Especially right now, in the midst of the Coronavirus.
Sometimes you don't even know that you're feeling it until you turn your head and your neck hurts; maybe you feel a constant pit in your stomach, or you notice your heart is beating faster than usual.
The truth is, some stress is normal … but chronic stress (like what can be happening right now with everything going on) can do an actual number on your body.
It can wreak havoc on your hormones, making you gain weight (especially unhealthy belly fat).
And it can also take a significant toll on your health, paving the way for illness and disease.
Good news.
I have a solution for you.
When you download this Free Guide,
Beat the Stress – 24 Ways to Reduce Stress in the Midst of COVID-19
You will learn:
What you can do to Take Back Control of Your Life!
About a Powerful Tool to Combat Stress that you already own
Learn how to Take Care Of and Heal Your Body
Learn how to Calm Your Mind & Re-Discover Your Focus
It's never been a big secret that stress causes illness, but it was never clear HOW it played a role until recently.
Enter your email below to get the free guide. The download link will arrive in your email inbox, or log in on your member page to access your member download link.
By submitting your details, you are subscribing to my eNews and RSS feed. You may opt out at any time. If you would like this guide without joining our email list, please contact us directly.