About the Playing with Food eNewsletter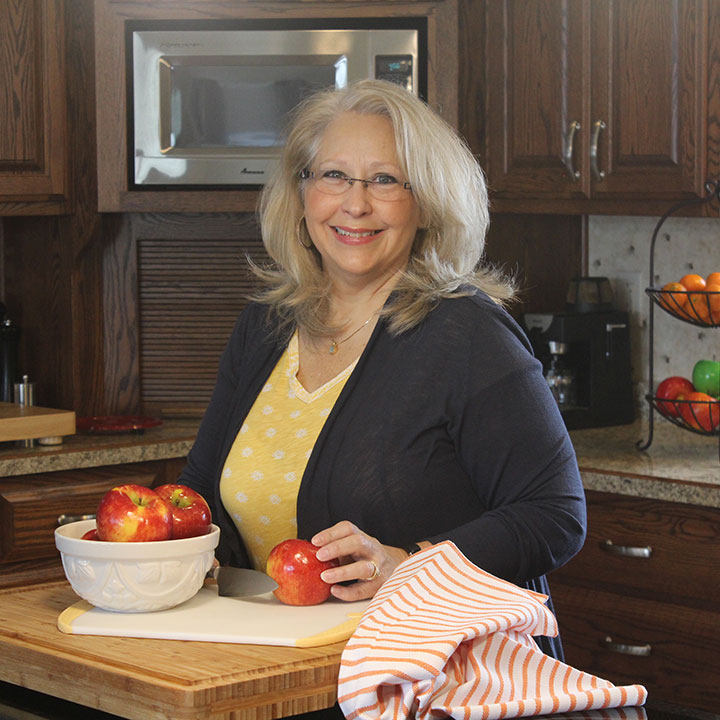 Gluten-Free Food for All Food Lovers Gathered at the Same Table!
Hi, I'm Kymberley Pekrul.
Christian wife, mom, grandma, student, patient, self-taught Gfree lifestyle expert on [most] gluten-free things, and the blogger/founder of GfreeDeliciously.com.
I've spent my career writing and developing articles, content, copy, sales, and fundraising materials for many brands and companies you love and trust. Among my many accomplishments, I've designed logos, advertising, and promotional pieces, illustrated a book, worked as an editor, public relations, and marketing professional, managed events, and even owned and published a regional magazine.
As a freelance writer, I've been blessed to write for and be published in several consumer and trade magazines. I have penned numerous stacks of published and unpublished essays, articles, poetry, prose, children's poems, and short stories. And these days, my writing allows me to indulge my lifelong passion for cooking and food by sharing stories through recipes, culinary history, and photos.
After being diagnosed with celiac disease in 2011, I returned to school to educate myself about the disease. Along the way, I became a certified gluten-free practitioner, accredited gut microbiome specialist, and health and lifestyle coach.
This newsletter aims to inspire an appetite to live fully nourished – for better understanding and connecting with ourselves, our bodies, our families, and our faith. Sometimes that means posts are recipe-heavy, and other times I may focus on gluten-free nutrition, food history, food growers or makers, or how-tos. Other times you'll find this to be a gathering place of ideas and inspiration – jumping-off points that showcase everyday experiences and activities. Such as cooking, decorating, gardening, books, and hospitality – all of which can be used to live fully nourished.
Subscribe to access the newsletter archive, printable recipe links, and even more on my GfreeDeliciously website. You'll always find the latest and greatest blog posts in my REVELATIONS journal and on Pinterest. Still, when you subscribe to GfreeDeliciously on Substack, every newsletter goes directly to your inbox with a more personal touch – including all the recipe details, guides, info, and more topics I don't share anywhere else. It's a conversation that I hope feels like you're sitting across the kitchen table from me each week.
The online world is fast. Here's where I hope we can all slow down to read words and intentions meant to nourish and grow together. Subscribers will get an article or a custom recipe from me 2 x a month to enjoy at their own pace. Paid subscribers will receive one extra email monthly, including VIP access to all curated guides, recipes, Q + A's, personal essays, and all my archives.
For less than the cost of a latte each week, you also get insider access to me and over 15 years of gluten-free knowledge, advance notice on events and classes, my upcoming book releases, and bespoke products that may be offered down the road.
Thanks for stopping by – I'm glad you're here!
If you care to go deeper, CLICK HERE>>
XOXO,
Thank you, your contribution helps support, encourage, and teach others to participate in their health actively! Because whether you're new to gluten-free or have been at it for years, everyone deserves to live their best gluten-free life without restrictions.
Let's talk tasty food that just happens to be gluten-free…
Join a community of gluten-free home cooks who share your interests. It's like sitting around the table after a good meal and engaging in a lively conversation about things that truly matter, like connection to the health we deserve and the food we grow and eat daily.
To learn more about me, visit GfreeDeliciously.com.
Still have questions? Contact me at https://gfreedeliciously.com/contact/.